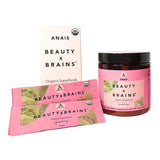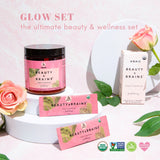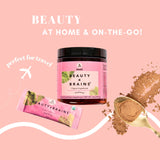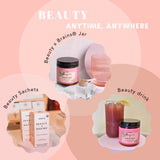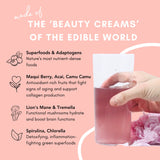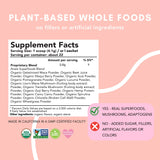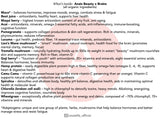 (Value $60)
Set includes: 1 Beauty x Brains® jar + 1 Beauty Sachets (box of five sachets)
Beauty anytime, anywhere
Beauty for home and on-the-go! We like to keep the jar at home and carry sachets in our purses. Anais inner beauty blends boost skin & brain health with organic superfoods, functional mushrooms, and adaptogens rich in vitamins, minerals, antioxidants, and phytonutrients. 
Fresh Berry is lightly flavored (like a tea!) with a hint of berries and lemon.
Highlighted ingredients
- Maqui Berry: highest known antioxidant-rich fruit, combats signs of aging, promotes glowing skin* 
- Tremella: hydrating 'beauty mushroom' holds up to 500x its weight in water; natural source of vitamin D and fiber*
- Camu Camu: vitamin C powerhouse, which supports immunity and natural collagen production and synthesis*
- Lion's Mane: "smart mushroom," adaptogen, natural nootropic for brain function and focus*
- Spirulina: detoxifying, alkalizing, anti-inflammatory, for healthy pH balance and digestive health*
How to enjoy daily: mix or blend 1 tsp. (or 1 sachet) with water, tea, smoothies, yogurt, non-dairy milk, salad dressing, or any favorite drink!
Certified Organic. Plant-based (Vegan). Non-GMO. Made in California.
*These statements have not been evaluated by the Food and Drug Administration. This product is not intended to diagnose, treat, cure, or prevent any disease.